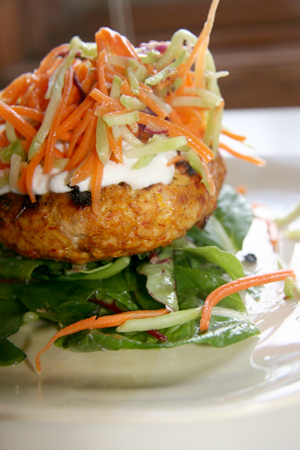 I visit the Calgary Farmer's Market every week. I usually there around lunch time and stop at Shef's Fiery Kitchen and have a small order of her butter chicken.It has the right combination of spice, herbs and creaminess in the dish. Butter chicken is a dish that this past winter I was trying to master at home. I haven't quite mastered it yet, but I did enjoy playing with the combinations of spices, cream and tomatoes.
Indian food has definitely become a favorite of mine, however it is a new love since my diagnosis of celiacs disease. I've stated before in previous blogs that I never knew how many wonderful spices and flavors there were in the world till I couldn't eat wheat anymore.
Spices like cardamon, coriander seed, garam masala, turmeric, cumin, fenugreek leaf, and fennel seed are all staples in my pantry now. When my daughter lived in Toronto, one of the places we went out to eat was a small local Indian restaurant in the Annex. Butter chicken was a must to order.
So this week, while I was thinking of burger recipes from around the world, Butter Chicken came to mind. Why not a butter chicken burger? Combining the flavors of butter chicken into ground chicken?
I also knew that I wanted an easy recipe to share so I used a gluten free butter chicken mix that I like to use. Daksha's Gourmet Spices is a Canadian product and one that I've found in many gluten free specialty stores here in Calgary. I like that it is all natural, no salt, preservatives, msg and of course gluten-free.

Butter Chicken Burgers
Ingredients
(this recipe makes 2 large patties)

1

pkg

ground chicken

4

tsp

Daksha's Gourmet Spices Butter Chicken mix

2

tbsp

olive oil

pinch of salt

1/2

of a roasted pepper, chopped finely

1/4

cup

chopped onion

1

tsp

tomato paste
Instructions
In a small bowl mix butter chicken spice mix with olive oil and a pinch of salt.

In a large bowl add ground chicken, chopped red pepper, onions, tomato paste and spice paste.

Mix until all is combined.

Form ground chicken mixture into 2 large patties.

Top burgers with garlicky yogurt sauce and limey carrot slaw.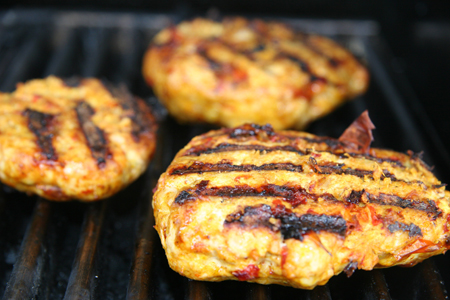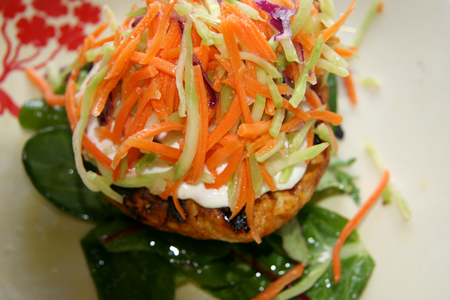 Garlicky yogurt sauce
Ingredients
1

cup

plain greek yogurt(I use Liberte Mediterranean)

1

whole roasted garlic bulb

1/2

lemon juice

pinch of salt
Instructions
In a small bowl combine all ingredients. Mix well until smooth.
Limey Carrot Slaw
Ingredients
2

cups

shredded carrot slaw (I buy the small bags of carrot slaw at Superstore)

1

tbsp

olive oil

1/2

tbsp

fresh lime juice

1

pkg

Swerve sweetener

1/4

tsp

salt

1/4

tsp

cumin
Instructions
Mix all ingredients in a small bowl and let marinade for a minimum of 15 minutes.