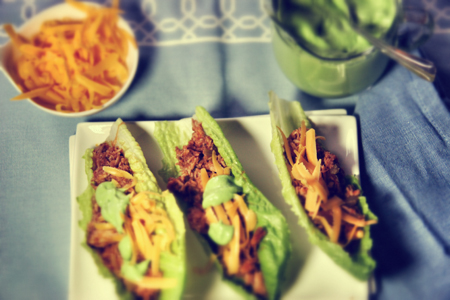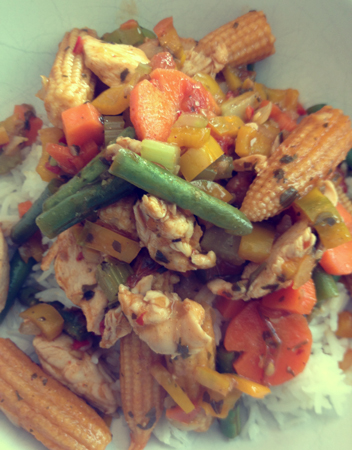 Thank you all for your patience lately. I know I haven't been posting any new recipes lately and I apologize, but also know that sometimes life gets really busy.
If you follow me on twitter you would know that I've been planning and designing renovations on our home. I will explain in more detail in my next blog but know that this is a big renovation we are taking on. On top of the decisions that I have to make via design I am also feverishly trying to clean and pack up the house.
Oh- and that lifestyle change I mentioned in my last blog? Well, that is also happening. Going low carb is definitely the right lifestyle choice for me. I did have a couple of days of detoxing but other than that I have been feeling great! I even started to lose weight.
If you are looking for a great app on your iPhone or iPad try "My fitness Pal". It's basically a food and exercise journal. What I love is that it also tracks calories and nutrients in your meals so you know if you aren't getting enough vitamins and nutrients in your diet.
I can honestly say I'm not missing bread, pasta, pizza, potatoes or rice. Years ago I did low carb but being celiac has opened my eyes to more vegetables then I ever knew existed. It's been fun playing with food!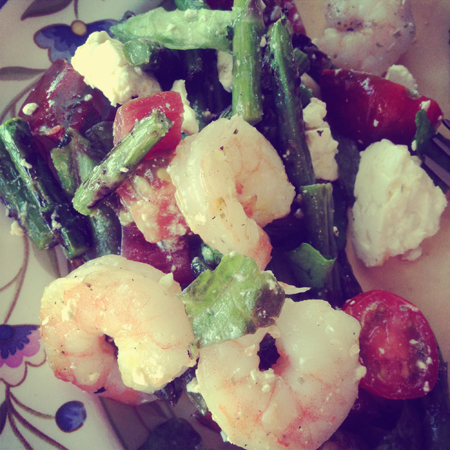 Now that we are eating low carb, I find that we typically have left over meat from the evening before. The other night I had made a slow-cooked pork roast and had plenty left over to make something the day after.
So I thought- 'Why not switch it up? How about buffalo pork lettuce wraps?' It's a great way to use up any left over roast and a super easy meal to make for the family.
Buffalo Pork Lettuce Wraps
Ingredients
4

cups

leftover shredded pork roast

4

stalks celery, finely chopped

1/2

onion, finely chopped

1

tsp

minced garlic

1

tbsp

canola oil

1/2 – 3/4

Frank's hot sauce (3/4 cup is major spicy!!)

Large romaine, butter or iceberg lettuce leaves (for the wraps)

Gluten free ranch dressing

Homemade parsley dressing( recipe on bottom of page)
Instructions
In a frying pan: add oil, celery, onion and garlic.

Saute until they are softened.

Add hot sauce and stir mixture well to combine.

On low-medium, heat up pork mixture.

Place 1/2 cup buffalo pork in each leaf.

Top with a squeeze of ranch dressing or parsley dressing and wrap up each leaf.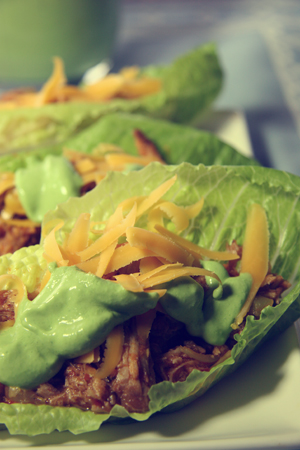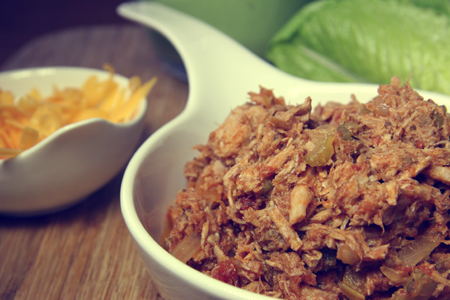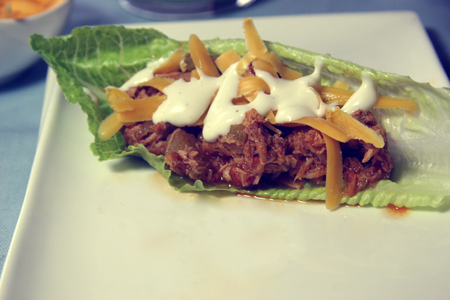 Parsley Dressing
Ingredients
125

ml

sour cream

125

ml

cottage cheese

1

large green onion chopped

1

cup

parsley
Instructions
Add all ingredients to vitamix machine and mix on high until dressing is smooth.

Store leftover dressing in refrigerator